Join us on February 28th & March 1st 2018
Are you ready to discuss the three key questions above? Then register for the 4th FLI Conference, get connected and learn with top executives, smart start-up entrepreneurs and young talents at the beautiful location of Tutzing Castle (Lake Starnberg). Explore future trends and new methods at the intersection of leadership and innovation. Strengthen your power to enable visionary ideas and projects and reach your best business results as a leader in times of digitalization.
Amongst others, you'll meet Jeff Burton, co-founder of Electronic Arts (EA), which is the world's leading gaming Company; he will inspire us with his vision to revolutionize education.
Vodafone CEO Dr. Hannes Ametsreiter will talk about his ideas to innovate in the area of telecommunications.
E.ON's chief innovation officer Dr. Frank Meyer will tell us how his company is turning upside down from an energy oligopolist to a digital Service provider.
Harvard Professor Barbara Kellerman will provide insights on how to create a leadership system that fosters innovation.
The German entrepreneur Lin Kayser will show us how 3D printing can revolutionize and decentralize industrial production.
Confirmed speakers
Please find below a selection of the experts who will be inspiring you during this interactive event.
FLI Conference: Tentative Agenda
Interactive Session
Keynote
Networking
Day 1: Innovate Yourself And Your Organization
10:30
FLI Conference Opening Ceremony: Welcome And Introduction
11:30
Innovate Yourself! Leadership For Navigating The Tensions Of Executing On Innovation
- Interactive Session With
Alan South
(former CEO of IDEO Europe, current Director of Ripplewood Lmtd) and
Sebastian Morgner
(Managing Director MLI)
Find out how to become your most innovative self: what are 4 typical traps of innovation. Find which one applies to you and use state-of-the-art innovation techniques to adapt your leadership style and become a role model for innovation.
13:00
Join & Lunch: Take A Break, Enjoy And Get Connected
14:15
How Design Thinking Endures As Such A Powerful Innovation Tool
- Keynote by
Alan South
(former CEO of IDEO Europe, current Director of Ripplewood Lmtd)
Based on his first interactive session, innovation expert Alan South explains the mechanics and rules behind innovation.
14:50
How I Re-invented Myself To Innovate Architecture
- Keynote by
James Law
(CEO, Founder and Cyberarchitect at Cybertecture)
James Law, a globally renown Cyberarchitect from Hong Kong, revolutionizes the way how buildings are being created in the future and totally disrupts the construction business.
16:00
Innovation Leadership - It's A System, Not A Person
- Interactive Session by
Prof. Barbara Kellerman
(Professor of Public Leadership at Harvard University)
Leadership is the ability to win active supporters to achieve strategic goals. By looking at innovation from a systemic viewpoint, you will understand what you as a leader can do and need to change to achieve sustainable innovation.
17:30
Piano & Promenade:
Take A Break, Reflect And Get Connected - Optional: Informal Discussion with
Prof. Barbara Kellerman
: What The #MeToo Debate Has To Do With Leadership And Innovation!
18:30
Eat & Inspire: Take A Break, Enjoy And Get Connected
19:45
Generation Mentoring:
Two Parallel Sessions: Senior Leaders Learn From Digital Natives and Young Talents Learn From Senior Leaders
Session A: "Digitalization Is The New Normal"
Steffen Iwan (Head of Business Development at Contiamo)
Veronika Gamper (Founder and CEO WeDaVinci)
Miriam Neubauer (Founder of Catena Capital and Blockchain Expert)
Senior executives ask digital pioneers about the "new normal" and learn what young talents expect from digitalization in the corporate world.


Session B: "How To Lead Your Own Career"
Dr. Antonella Mei-Pochtler (Senior Advisor at Boston Consulting Group)
Alan South (former CEO of IDEO Europe, Director of Ripplewood Lmtd)
Jeff Burton (Co-founder Electronic Arts, CEO of Woodside Creek)
Three very different careers – different insights and success formula about leadership. Young talents ask senior experts about their insights and learn what matters most to these experts.
21:00
Jazz & Jingle:
Enjoy And Get Connected
Enjoy networking with an amazingly inspiring crowd of people in the beautiful saloons of Tutzing Castle.
Day 2: Innovate Your Organization And Your Ecosystem
7:00
Wake Up & Work Out: Lederhosen-Training at the shore of Lake Starnberg
8:30
Applied Innovation 1: Risk-Taking Culture
with
Dorothea Anzinger
(Leadership Coach)
Participants experience first-hand what it means to live-up a risk-taking culture that allows innovation to happen
9:30
Is There Any Success-Formula To Innovation? Four Different Viewpoints
- Keynotes by
Dr. Hannes Ametsreiter

(CEO of Vodafone): "How Vodafone Drives The Gigabit Society"

Lin Kayser

(Serial Entrepreneur): "Bold and Deep: Innovation Beyond The Buzzword"

Dr. Antonella Mei-Pochtler

(Senior Advisor at BCG): "Innovating Big Businesses–Successful Examples and What Leaders Can Learn From Them"

Hanno Renner

(CEO of Personio): "There is No Innovation Without Innovative People Leadership"
How to innovate the Gigabit Society?
Can corporates manage and plan innovation?
Are large corporates too bureaucratic to allow the freedom of thinking fundamental for any innovation?
Why corporate leadership often fails to foster innovation?
Four executives with different backgrounds share their essentials when it comes to leading innovation.
11:00
Coffee & Bites: Take A Break, Enjoy And Get Connected
11:30
Discovering The Roots Of Innovation: An Interactive Debate
with
Dr. Hannes Ametsreiter
(CEO of Vodafone),
Lin Kayser
(Serial Entrepreneur),
Dr. Antonella Mei-Pochtler
(Senior Advisor at BCG),
Hanno Renner
(CEO of Personio)
Exploring the truth behind organizational innovation: The audience will challenge these four speakers to discover what is really needed leadership truly can do to create an environment in which innovation will happen.
12:30
Connect & Discuss:
Speed-Networking
Get to know interesting people in short one-on-one conversations (5 minutes). Find common topics of interest you may futher discuss during lunch.
13:00
Join & Lunch: Take A Break, Enjoy And Get Connected
14:15
Applied Innovation 2: Experience The Freedom To Think Outside The Box
with
Dorothea Anzinger
(Leadership Coach)
14:45
Rethinking Your Company: How To Successfully Turn Your Organization Upside-Down?
– Keynote by
Dr. Frank Meyer
(Head of B2C Solutions & Innovation at E.ON)
Not long ago, E.ON was a huge oligopolistic operator of energy plants and grids. Now, the company is becoming a customer-oriented provider of electricity-based services. How can you turn an incumbent company upside-down, create a new mind-set and radically innovate your existing business models? Dr. Frank Meyer will show you how to make the impossible possible.
15:10
How Social Innovation Drives The Economy: A Case Study
– with
Konstanze Frischen
(Leader of Ashoka North America)
Konstanze Frischen is leader of Ashoka North America. She is a pioneer in professionalizing social business. Ashoka call themselves "home of the change makers" and support projects to drive business and social innovation around the world. Konstanze will prove why social innovation is always the driver of business innovation.
15:35
Coffee & Bites: Take A Break, Enjoy And Get Connected
16:00
Innovation City: Creating The Innovation Ecosystem Of The Future –
with
Gabriele Semino
(Leader of WARR Hyperloop Team),
Christian Lindener
(CEO of Wayra Germany) and previous Keynote Speakers
In a co-creative Fishbowl-like format innovation thought leaders will create, together with all participants, a vision of how large corporates, start-ups, academic and other institutions can work together in the future to align their strengths and compensate for their weaknesses. A graphic recorder will document the result of the discussion in real-time.
17:30
Reflexion - Collect your major insights and take-aways how you can lead innovation in your business environment.
17:45
Applied Innovation 3: Open Feedback Culture
with
Dorothea Anzinger
(Leadership Coach)
18:15
Being Smart, Naïve or Courageous – What Does It Need To Become An Innovation Leader? –
Keynote by
Jeff Burton
(Co-Founder of Electronic Arts (EA) and CEO of Woodside Creeks)
Which strategies, insights and methods referring to innovation can you adopt from a corporate history like the one of Electronic Arts (E.A.)? To which extent is success part of intent, to which extent accident? How much can leadership anticipate and create conditions that make innovation happen.
18:45
Future of Leadership Award Ceremony
- with
Robert Wreschniok
and
Sebastian Morgner
(co-founders Future of the Leadership Initiative and Managing Directors MLI)
This years Future of Leadership Award is presented to the WARR Hyperloop team. Among hundreds of universities in a global competition, the self-organized team won Elon Musks SpaceX competition twice. This summer their latest prototype went through the test pipe in California with top speed of 324 kmh.
The team will be awarded for their spirit of collective, purpose-driven leadership.
19:00
Inspirational Dinner: Enjoy And Get Connected
Registration
Get Your FLI Conference Ticket Here
Get your FLI Conference ticket today! Please click on one of the buttons below to do so. If you're an executive, please choose "Register as a corporate professional".
Are you a start-up entrepreneur or a graduate student? Then please select "Apply as a digital native". We're looking forward to welcoming you on February 28th and March 1st 2018.
Take your chance and reserve one of 60 available rooms at Tutzing Academy. Enjoy the exchange of viewpoints and network with amazing people in the beautiful salons of the castle. Your bed will be just a few steps away of the Conference.
In the morning you can enjoy the amazing view over lake Starnberg to the Alpine panorama.
If you wish to stay at the venue, send a message to info@leadership-munich and we will be happy to make a reservation for you.
About
For four years, the Future of Leadership Initiative (FLI) has been bringing together experienced executives, smart young talents and thought leaders to investigate fundamental challenges of leadership in times of digitali-zation. The conference is the culmination of the FLI. During this two-day interactive event, the results of the annual FLI project are shared and
discussed amongst young talents, thought leaders and executives from a wide variety of industries. It includes powerful keynote addresses and innovative interactive formats (hackathons, real-life business simulations, world cafés…).
Impressions from the last FLI Conferences between 2014 and 2016:
Former FLI Conferences
3rd FLI Conference (2016): "Meaning@Work"
At the FLI Conference of 2016 on "Meaning@Work", internationally renowned thought leaders, top executives and decision-makers and brilliant young minds came together to interactively explore how the notion of "Meaning Making" impacts an organization's success. This cross-generational and interdisciplinary group investigated how the creation and perception of purpose in the digital age impacts future leadership across all industries, both in terms of skills and technology.
Our speakers and thought leaders of FLI 2016 were, amongst others …
2nd FLI Conference (2015): "Vision Y"
During the FLI Conference of 2015 on "Vision Y", participants discussed about what true progress means, investigating the generation Y´s future expectations and aspirations. Together they investigated jointly what the initiatives leading to a better future would mean for companies and the leadership of tomorrow.
Our speakers and thought leaders of FLI 2015 were, amongst others …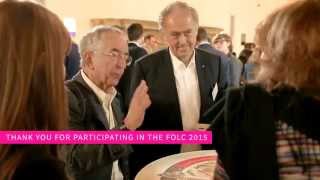 FLI Conference 2015
1st FLI Conference (2014): "Phantom Change"
At the FLI Conference 2014 on "Phantom Change", young talents and experienced executives met for the first time to discuss the topic of "overcoming the phantom change". Change, was one important conclusion, needs confidence. Leadership through uncertain terrain means providing followers with a compelling idea of what the future looks like, the tools they need to act with agility, the openness to continuously question yourself and with the confidence that whatever surprises come up, the team will reach its goal.
Learn more about the FLI insights and discoveries that have been shared on our blog!
Do you want to know more about the FLI Network and our more than 100 thought leaders?